BEST OF ALL IT'S FREE, thanks to our sponsors!

Sound good? Want to get on the list?

Just fill in the information above and we'll place you on the Surfer Alert so you'll know when it's going off!

PLEASE be sure to enter your correct email address. I delete email addresses that bounce back as undeliverable. You will be added to the list and get the next alert, time varies as to when the next swell hits.

If you do not get a Surfer Alert after there has been some good surf, please contact me again.

See you in the water!

If you experience any problems with this form please send an email and include the information requested above. Thanks!
INTERNET SURFING: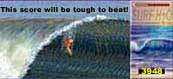 Contents Copyright © 1995-2004
by Surf Cam, all rights reserved.
CGI scripts are designed,
maintained & copyright © 2004
-- LOGICAL Internet --